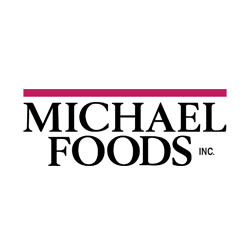 Electrical Technician - Robotics Manufacturing
Sorry, this job has expired.
Chaska, MN
Paid Tuition Reimbursement, Paid personal time, Paid holidays, Paid vacation, 401K / Retirement plan, Disability Insurance, Vision Insurance, Dental Insurance, Life Insurance, Health Insurance
We are seeking an Electrical Technician for our food production facility in Chaska, Minnesota, located 20 miles west of Bloomington and 20 miles east of Norwood Young America.

As the Electrical Technician your primary responsibilities will be to safely and efficiently maintain, troubleshoot, and apply process improvement techniques for our electrical and automation subsystems.

Experience a rewarding career in our state-of-the-art facility working with top tier vendors such as Raque, Multivac, GEA, RobotStudio Machining PowerPac, ARO Corp. Enjoy endless career development with Michael Foods! Our processing facility offers you clean, modern, world class operations to apply your knowledge and build your skills through our continuous learning family culture.

We are a fun, professional and caring crew. Click here to see a few of our Team Members:

We invite you to consider growing your career with Michael Foods!


• 2-year certification from college or technical school or equivalent combination of education, training and/or experience.
• Minimum 2 years of industrial electrical background in manufacturing environment.
• 5 years of strong industrial electrical background in a manufacturing environment with food processing plant is preferred.
• Experience in mechanical systems and pneumatics is helpful.

• Programmable Logic Controls (PLC) hardware troubleshooting.
• Must be self-motivated and able to work with minimal supervision.

• Perform advanced electrical troubleshooting.
• Work with IT department to troubleshoot and maintain robotics automation servers.
• Work with internal and external resources to resolve issues as quickly and effectively as possible.
• Effectively communicate the status of issues and projects with management, vendors, peers, and production personnel.
• Provide technical leadership and support to the electrical and instrumentation technicians at the facility.
• Identify and facilitate process and automation improvements.
• Identify necessary program changes and work with Corporate Controls to implement.
• Assist and consult with management/engineering on projects as needed.
• Manage, back up, and organize all automation related documentation for the facility (programs, schematics, network information, manuals, etc.)
• Create user manuals and training documentation; train all technicians as appropriate.
• Respectfully interact with a diverse group of people.
• Adhere to safe work practices, complete monthly safety audits/observations, follow GMP's, maintain sanitary conditions and ensure that product quality is maintained. Report to management any conditions or practices that may adversely affect food safety, food quality or personnel safety.

• Pertinent skills to perform job responsibilities as described.
• Effective written and verbal communication skills to perform job duties.

• Night shift: 6pm-6am
• Day shift: 6am-6pm

At Michael Foods, we are a leader in the food industry because we introduce innovative, value-added food products and customer solutions. Our success starts from the inside out — empowering employees to play a vital role in our company. You have a chance to make your own impact, expanding on our already rich history. That's how plenty of our people have already transformed their careers. And you could be next.

Join our company and be part of an innovative team that's First in Food—where you can enhance your career, sharpen your talents and make an impact. Every day and in every way!

We are an Equal Opportunity Employer.
15805